Get a quick no obligation quote It's free and will only take a jiffy!
Natural Home Security Measures – How Trees can Protect Your Home
Using strategically chosen and carefully positioned trees and shrubs, it is possible to create a valuable barrier to help keep intruders at bay, plus there's the added advantage of improving the surrounding landscape. Here's a look at how best to use defensive planting to your advantage, with our top picks of the best naturally defensive plants you can use to protect your property.
What is defensive planting, and how best to use it?
Defensive planting is any tree, shrub or bush that is thorny or spiky. Planted around a property, it will prevent or deter any intruder from gaining access.
There are many plants that can be used defensively. Providing you choose the right plants to suit your soil type and the position they'll be planted in, you should benefit well from this natural security strategy.
Things to consider when choosing plants for home security
Always look at how tall and wide the tree will grow. Whilst you want to protect your borders, you don't want plants that are so large they block light, or provide cover for would-be intruders.
Also, be sure to stick to UK native trees or shrubs. UK native species support our local ecosystems. They require less maintenance and fertilisers, and are much better adapted to the local environment, which means they need watering less frequently.
Lastly, be sure to get into a regular tree pruning routine with your defensive planting. It's important to keep your new security measure healthy and presentable, and regular pruning will aid that.
Things to consider when planting defensive borders
It's really important to make sure you don't inadvertently block escape routes with your planting. Think about upstairs windows and a potential need to use them to escape should a fire break out. If you have thorny or spiky plants below, this could cause issues.
Also be sure to leave a clear path to things like vents, utility meters and access hatches.
To secure walls or fencing, plant a spiky hedge across it so that it spreads upwards and creates an attractive barrier. No intruder will want to scale a boundary that could potentially injure them or rip their clothes, leaving behind vital evidence.
Drainpipes are often used by intruders to gain access to a property. Training a climbing plant up a nearby trellis or planting a thorny bush close to it could be effective. Be sure to clear any dropped leaves from the drain or guttering, however, so that it doesn't become blocked. Do bear in mind that larger climbing plants that attach themselves to walls can pose a risk to older buildings, those built on clay soils, or properties with shallow foundations.
You don't have to plant thorny or spiky species to secure your boundaries. Any hedging can potentially put a barrier between an intruder and your property.
What are some of the best UK native defensive plants to use for home security?
Not sure what to plant to help protect your property? Here are some of our top picks of the best UK native plants that can be used defensively.
1. Blackthorn (Prunus spinosa)
Blackthorn is a deciduous, bush-type thorny tree. It provides glorious white blossom in early spring which is highly beneficial for pollinators, and sloe fruits later in the summer which are much-loved by birds.
Blackthorn will grow up to seven metres high, with a spread of around four metres. The thorns are quite precarious, and can be as long as 5cm.
If you have chalk, clay, sand or loamy soil, providing it's well-drained, blackthorn should do well whether it's in a sheltered or exposed position.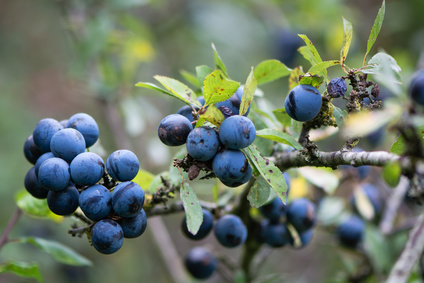 2. Hawthorn (Crataegus monogyna)
Hawthorn is otherwise known as the May tree due to it blossoming during the month of May. This is another bushy deciduous tree, but it will grow taller than blackthorn, reaching heights of around 15 metres, with a spread of 4-8 metres. The thorny branches make it ideal for defensive planting.
The red fruits that appear on the hawthorn tree in late summer are called haws, and can be used to make wine, jellies and ketchups.
A moist but well-drained soil is best for hawthorn, be it sand, clay, chalk or loam. Full sun or partial shade are equally enjoyed by this tree, although if you are keen to get the most out of it blossom and fruit wise, a full sun position will be best.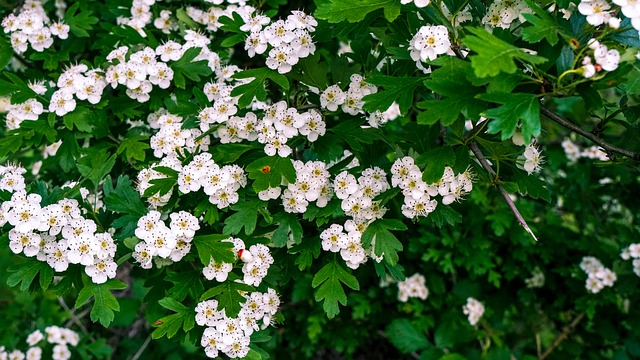 3. Holly (Ilex aquifolium)
Holly is known for its glossy dark green leaves and bright red berries. This evergreen species keeps its spiny leaves all year, which means it gives 365 day protection. It's important to consider though that the berries of some holly cultivars can be poisonous to humans and pets, so be careful which you choose.
Holly trees can grow up to 15 metres in height with spread of 4-8 metres, although most people choose to keep them well-pruned and smaller than that.
Clay, sand, chalk or loamy soil are equally suitable for this tree, which can withstand a full sun or partially shady location.
Professional Tree Care from TH Trees Ltd
At TH Trees Ltd, we have been specialising in tree care Essex wide for almost two decades. We offer a value-added service that you can fully rely on; one that is widely trusted and recommended throughout Essex and that is Trading Standards and local authority approved and carried out in line with British Standards.
For a no-obligation quotation and helpful advice from a qualified Essex tree care specialist, call TH Trees Ltd on 01268 642 814.
Aug 2, 2023
Bamboo removal
I want to thank Mark and the team for the fantastic job they did in removing the bamboo plants from our garden. They all worked extremely hard and kept us in touch with any problems that arose. They arrived when they said they would and when they were finished, they cleaned up after themselves and left our garden clean and tidy. I would definitely recommend TH Trees to anyone who wants their bamboo problem resolved.
Thank you very much Christopher for leaving us such a lovely review. It was a pleasure to get this job done for you, and we hope you'll contact us in the future should you need us again.
Page 1 of 226:
«
‹
1
2
3
›
»