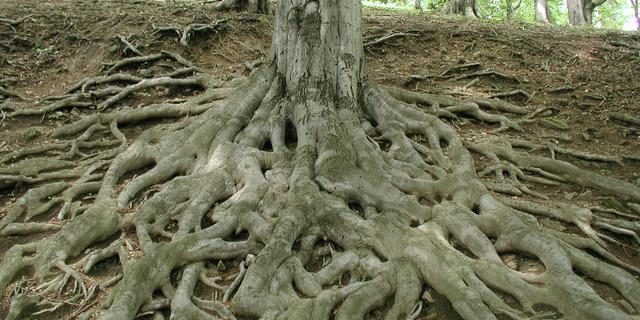 Get a quick no obligation quote It's free and will only take a jiffy!
Tree Roots and Property Damage: All You Need to Know
Contrary to popular belief, the majority of trees growing near buildings cause no damage. However, in some situations, structural damage and subsidence can be associated with tree roots. Lifted paving and blocked drains may also arise. But if you can understand what it is about trees that can affect buildings, including the type of soil and the species of tree, then you will be better informed and know when it's time to bring in professional help to deal with your trees.
What damage can trees cause to buildings?
Whilst many people are concerned that a tree growing near a house will cause subsidence, the fact is that most will not. It's generally only an issue on shrinkable clay soils. Properties up to four storeys constructed pre-1950s are most at risk, as they tend to have shallow foundations, which is one of the major issues. Modern buildings are very rarely affected by tree roots.
Tree roots may block drains. If the drain leaks, it can form cavities where the water gets into the soil. Older drains with ageing seals and rigid joints are more prone to damage.
Tree branches can affect roofs and guttering. Expanding roots and suckers can lift paving and the likes of sheds and garages. But you won't find them lifting anything heavier.
How do tree roots cause problems?
Shrinkable clay soil during prolonged droughts can be dried out by trees, which causes the soil to shrink. The movement in the soil can lead to subsidence of the foundations, and structural cracking, usually around windows and doors.
But you're going to need a good 5-10mm of movement before any cracks appear. And tree roots are unlikely to directly penetrate sound footings. What's more, if drains are watertight, then they probably won't be affected by tree roots.
How far will my tree roots grow?
Tree roots spread up to three times the height of the tree. The actual distance they grow depends on the species.
For example, the roots of a birch tree may grow anything up to 10 metres. Cherry tree, hawthorn and rowan tree roots tend to grow up to 11 metres, whilst plane and beech tree roots can reach 15 metres. Ash, maple and sycamore tree roots can grow to around 20 metres, horse chestnut and elm tree roots to 23-25 metres, oak tree and poplar roots to 30 metres, and willow tree roots to 40 metres.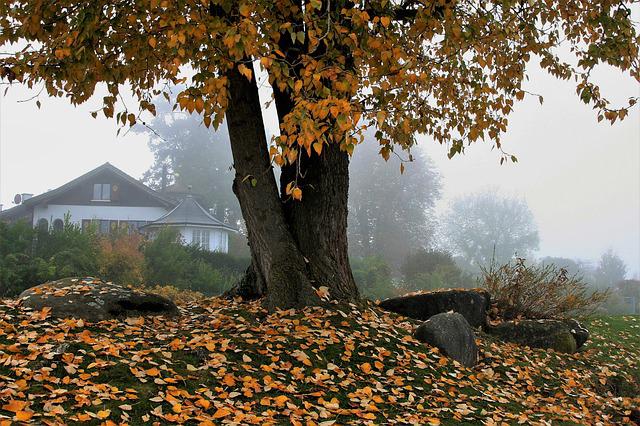 How to minimise or prevent damage?
It all boils down to careful selection of trees where they are being planted close to a building. But this does not necessarily mean you can't plant large trees in built-up areas.
In truth, there are too many overly cautious tree removals, leading to loss of valuable trees in our streets and gardens. Trees are vital for biodiversity, and are a vital weapon in the fight against climate change. In more simplistic terms, trees help maintain healthy environment, and can help boost mental health.
It is quite tricky to predict which trees are most likely to cause damage, because even where there is a high risk due to the soil type and climate, only a very small number of trees will go on to cause subsidence.
It is actually better to wait until a tree has caused tangible damage before taking any action.
If you own a large tree that's close to a building or public highway, you should most definitely have it professionally surveyed on a regular basis, preferably every few years, to ascertain any necessary pruning or maintenance requirements.
Make sure you get a written report, and keep them safe, as you may need to produce them should any negotiations arise with public bodies or insurers.
Always remember that trees on your land are your responsibility, and that you will be liable for any damage caused to yours or neighbouring property or land. You must always check with your local planning authority to determine whether there is a Tree Preservation Order in place before carrying out any work on a tree, including any type of tree pruning.
Need a tree survey?
If you are worried about the potential damage a tree on your land may be causing, a tree survey will put your mind at rest.
At TH Trees, our highly experienced, fully qualified, helpful are ready to help. For personalised assistance, you are welcome to get in touch.
Aug 2, 2023
Bamboo removal
I want to thank Mark and the team for the fantastic job they did in removing the bamboo plants from our garden. They all worked extremely hard and kept us in touch with any problems that arose. They arrived when they said they would and when they were finished, they cleaned up after themselves and left our garden clean and tidy. I would definitely recommend TH Trees to anyone who wants their bamboo problem resolved.
Thank you very much Christopher for leaving us such a lovely review. It was a pleasure to get this job done for you, and we hope you'll contact us in the future should you need us again.
Page 1 of 226:
«
‹
1
2
3
›
»