Get a quick no obligation quote It's free and will only take a jiffy!
Common Tree Diseases: Slime Flux
Summer is the time to see trees oozing sap, but if there's a strong smelling, slimy liquid weeping from your tree that smells like vinegar and is acting like a magnet for flying insects, then you could be dealing with bacterial wetwood, otherwise known as slime flux. Read on to learn more about this common tree disease, and what to do if you spot it on one or more of your trees.
What is slime flux and how to recognise it?
If you've noticed dark patches on your tree that seem to be attracting flutters of butterflies and swarms of wasps and flies, and you have noticed a strong smell of vinegar, then there is every likelihood your tree is suffering from slime flux, otherwise known as bacterial wetwood.
The dark, wet patches you can see are caused by sap oozing from the bark of the tree. It will most likely be coming from a crotch or pruning scar, but it may just be weeping randomly.
The disease is a major cause of rot in trunks and branches of hardwood species. It's caused by a bacterial infection within the inner sapwood and outer heartwood of the tree, and is usually associated with wounding, environmental stress, or perhaps even a combination of both.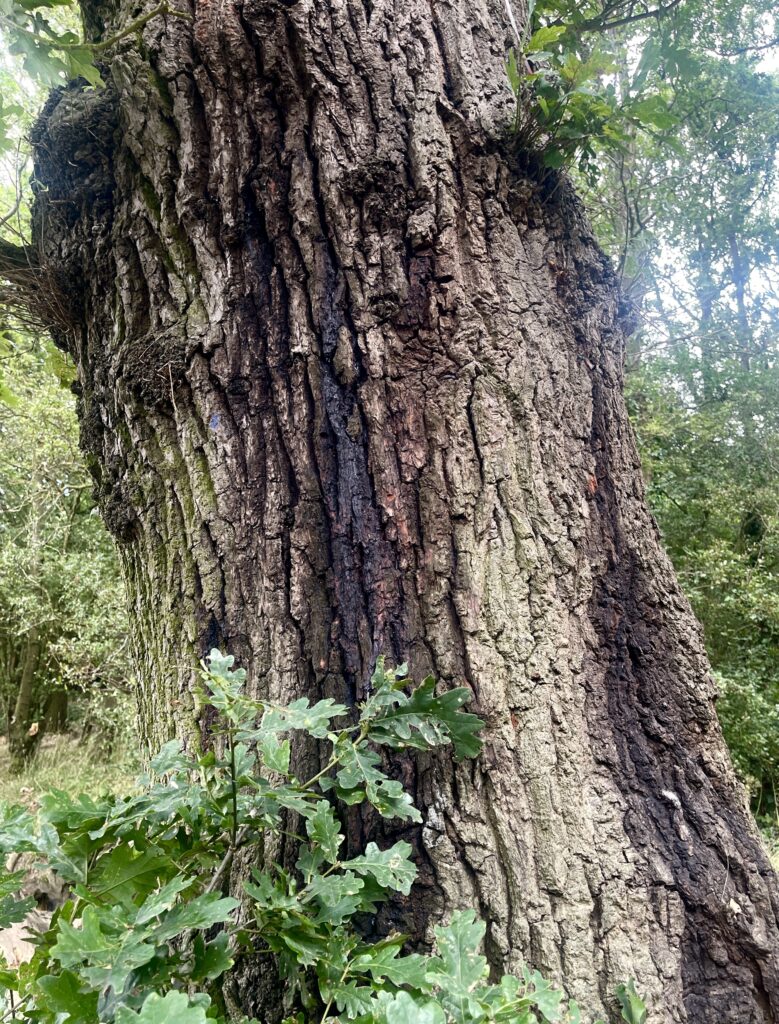 What are the symptoms of slime flux?
A tree suffering from slim flux will exhibit dark, wet patches, sometimes in more than one area of the trunk. The patches run vertically down the tree's trunk, and are caused by sap weeping from wounds or even seemingly healthy looking bark.
The weeping may actually be a good sign, as it shows that the infection within the tree is naturally draining away. Slime flux more often than not occurs in trees that are situated in dark, damp environments.
The bacteria that causes the slime flux infection affects the walls of the wood cells, resulting in the moisture content of the wood increasing, to the point where it has nowhere else to go but out of the bark. The slimy seepage is foul-smelling, often with the aroma of strong vinegar. This is fermented sap, and it is toxic to new wood.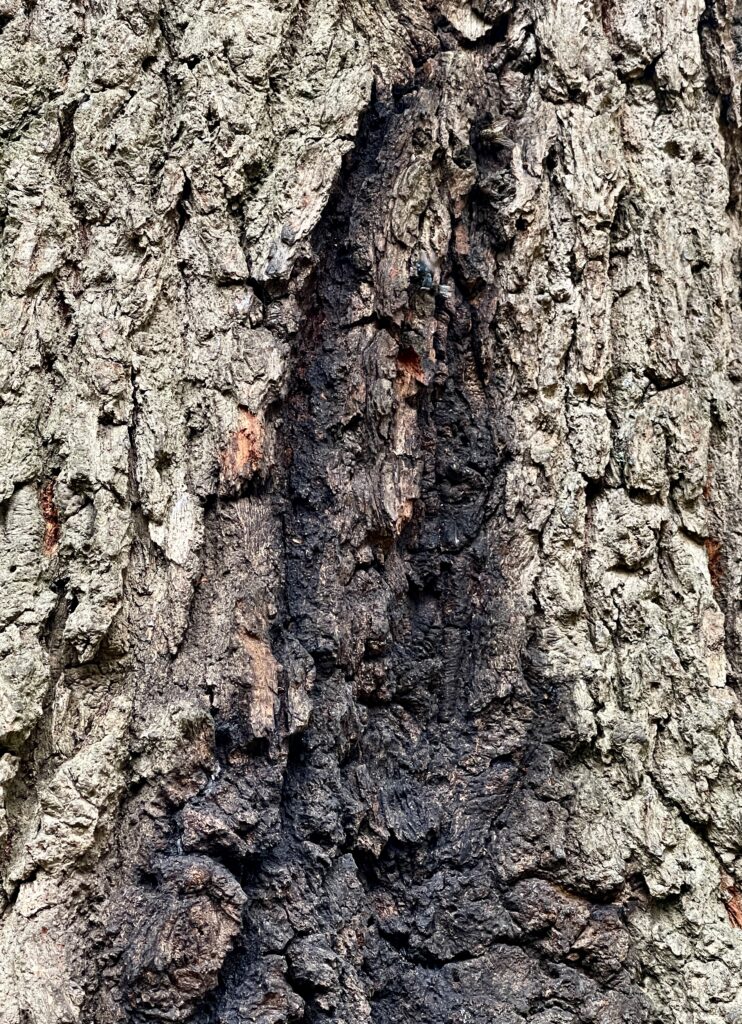 What species of trees are affected by slime flux?
Various species of trees can be affected by bacterial wetwood or slime flux.
Commonly, it will be found in elm trees, but other affected species include oak, willow, ash, maple, beech, birch, cherry and sycamore. In elm trees, the offending bacteria are Enterobacter cloacae, and in others it could be Clostridium, Bacillus, Klebsiella, or Pseudomonas.
How to treat slime flux disease?
There are no truly effective treatments for slime flux disease. The best advice is to keep the tree generally healthy, allowing the tree to isolate the source of the disease and grow wood around the diseased section.
Affected trees will often overcome the problem of their own accord by naturally sealing off the damage.
The use of insecticides is not recommended as a treatment for slime flux disease. Whilst you are likely to see large numbers of insects feeding on the sap, it is important to remember that these insects were not responsible for the disease, and that they do not spread it. So there is no real benefit in applying an insecticide. In fact, it may make it worse.
How to prevent slime flux disease?
Prevention is by far better than cure when it comes to bacterial wetwood or slime flux disease.
Avoiding inflicting wounds to the tree is important, as is ensuring any tools used to prune the tree are thoroughly disinfected both before and after use so as not to spread diseases.
Be sure to plant trees in locations where there are no stresses from the likes of soil compaction, for example from heavy footfall or vehicle traffic, which could prevent the absorption of vital nutrients.
Pruning deadwood in a timely fashion is also highly recommended.
Healthy trees will usually overcome slime flux naturally. So the healthier your trees, the less likely they will be to suffer any ill effects from this disease.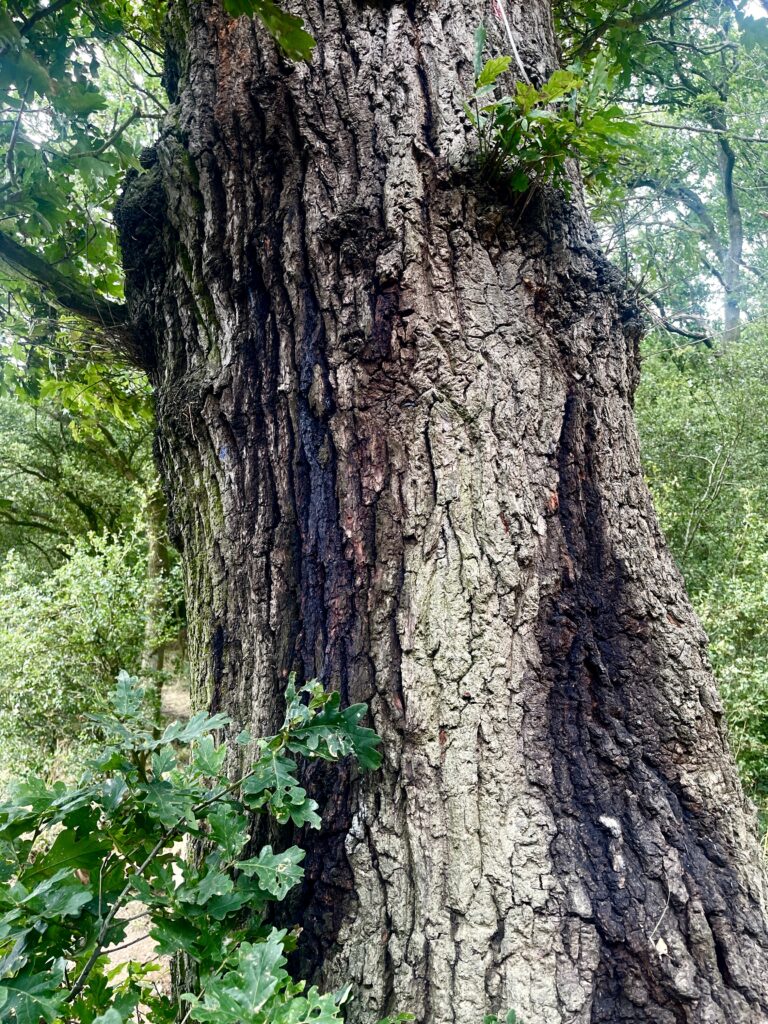 Looking for professional tree care services to keep your trees healthy year round?
Whether you need help controlling a disease such as slime flux, or you are looking for professional tree care services, TH Trees Ltd can help.
Our extensive experience and professional qualifications allow us to identify and treat a range of common tree and plant diseases. So if you are worried about any tree on your land, please do get in touch.
Images copyright Sarah McInerney
Aug 2, 2023
Bamboo removal
I want to thank Mark and the team for the fantastic job they did in removing the bamboo plants from our garden. They all worked extremely hard and kept us in touch with any problems that arose. They arrived when they said they would and when they were finished, they cleaned up after themselves and left our garden clean and tidy. I would definitely recommend TH Trees to anyone who wants their bamboo problem resolved.
Thank you very much Christopher for leaving us such a lovely review. It was a pleasure to get this job done for you, and we hope you'll contact us in the future should you need us again.
Page 1 of 226:
«
‹
1
2
3
›
»