Get a quick no obligation quote It's free and will only take a jiffy!
A Guide to Planting Trees in Damp Conditions
Choosing the right trees to plant can be a challenge, especially if you have less than perfect conditions, such as permanently damp soil. If your garden suffers from poor drainage or is just generally wet and boggy, read on to learn the best trees that are capable of surviving in damp conditions.
There are actually quite a lot of trees that will survive in damp locations, but only a few will cope with continuous flooding. In this post, we'll share with you the tree species that will tolerate your wet soil. But first, how to identify if your soil conditions can actually be classed as 'damp'?
How to identify if soil can be classed as 'damp' or 'wet'?
If the area is constantly damp, or has standing water, then it will usually be too wet for planting trees that are not classed as damp or flood-tolerant.
You can also check the soil texture. Take a handful and squeeze it. If water drips out, then you can safely say that's wet soil.
Finally, look for signs of poor drainage. Water pooling or standing for more than a day after rain will identify damp soil that won't be suitable for planting trees other than those which are damp or flood-tolerant.
Is there a way of improving soil in wet areas for tree planting?
There are a few ways in which you can improve wet soil for tree planting:
Build raised mounds – create raised mounds of lighter soil so that the planting area is raised above the water line. This will alleviate waterlogging and improve drainage.
Add organic matter – introducing the likes of compost or manure to the soil will help improve its structure, boost nutrient content and again, improve drainage.
Mulch the soil – organic mulch around the base of the tree will help regulate the soil temperature and improve the structure of the soil over time. Examples of mulch suitable for this purpose are wood chips, straw, bark and leaves.
Install drainage systems – sometimes, damp soil can be caused by poor drainage. Installing a French drain or subsurface drain will help to redirect excess water away from your planting zone.
Avoid compaction – try to avoid walking on wet soil, as it will become compacted. When this happens, root growth is restricted and water infiltration suffers. Try placing boards over wet soil where people need to walk to help distribute weight evenly.
Keep an eye on irrigation – good irrigation is vital for the healthy development of a tree, but do make sure that it is not contributing to the waterlogging problem.
Finally, choosing the right species of trees that are adapted to wet soil conditions is vital. Certain species will have evolved to thrive in damp zones and will be more likely to thrive in such areas.
You should also consider the specific needs of the tree species you are intending to plant, and definitely consult a qualified tree surgeon for guidance to make sure your chosen tree will do well in your particular soil conditions.
What trees will tolerate damp soil and flooding?
There are various species of trees suitable for wet areas or planting near water. Some won't just tolerate the damp, they'll even go as far as improving the soil structure, soaking up excess water and firming up soil that's prone to erosion.
The most popular water-loving trees are weeping willows and river birch, as well as alder and poplar. All of these prefer damp or even wet conditions, and there is plenty to choose from there to suit a variety of garden types, from the small cottage garden to the larger landscaped space.
River birch (Betula Nigra)
This deciduous variety offers year-round interest thanks to its vibrant green serrated-edge leaves in spring and summer, turning a vivid golden yellow in autumn and then falling to reveal beautifully textured bark in winter. As well as doing well in wet soil, river birch is tolerant of drought, as well as air pollution and deer.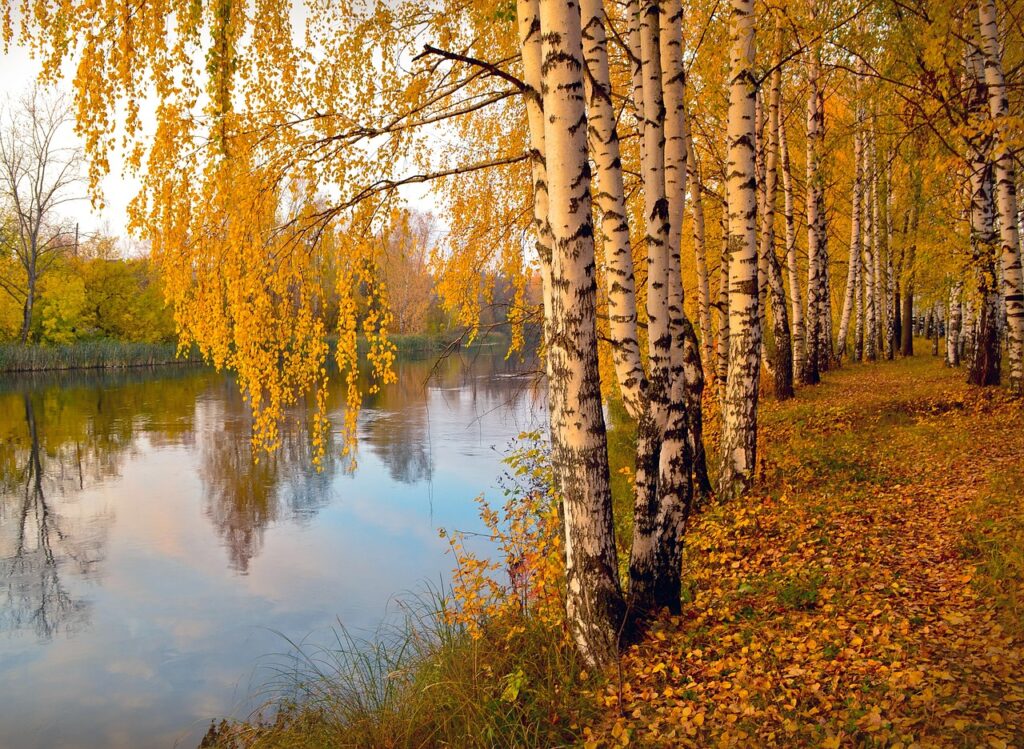 Quaking aspen (Populus Tremula)
Quaking aspen is so-called due to the movement of its foliage in the wind, giving the impression of a trembling tree. The leaves emerge in a copper hue in spring, turning green and then eventually vivid yellow and red in autumn. The catkins that appear on the tree remain for most of the year, adding to its interest. It's a large, deciduous tree that grows to around 25 metres in height with a wide canopy stretching to around 10 metres, so be sure to allow plenty of space for it.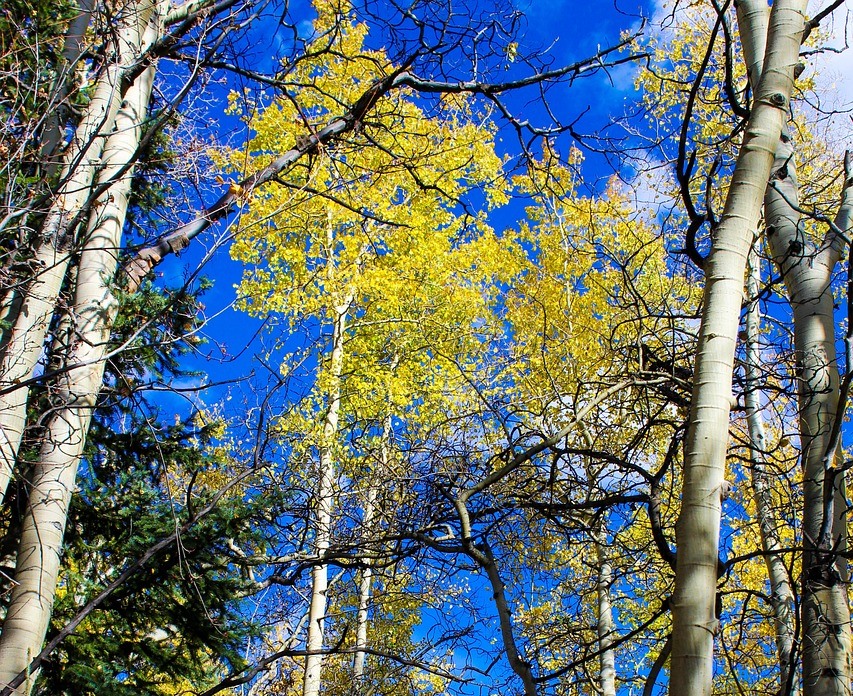 Common alder (Alnus Glutinosa)
The white common alder is a naturally small, bushy tree that's decorative to look at and makes for good screening. Its drooping yellow catkins are very attractive, and as the tree only grows to around 12 metres with a 4-8 metre, spread, it's suitable for smaller spaces. Suitable for a range of soil types, from wet to drought, the common alder prefers a sunny spot.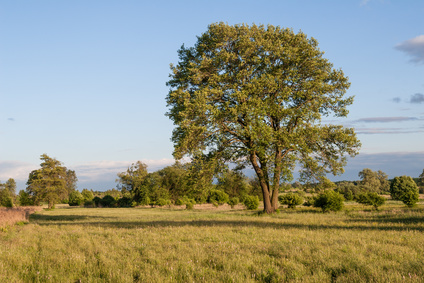 White willow (Salix Alba)
Possibly the most iconic species of tree in terms of waterside species, the weeping willow may come in a variety of forms, but will always share a love of damp conditions. The white willow boasts silvery white pointed leaves that glimmer in the sunlight. It's a fast-growing deciduous tree that needs its space, especially as it tends to grow to over 25 metres in height with a 10+ metre spread. Full sun is the position of choice for the white willow.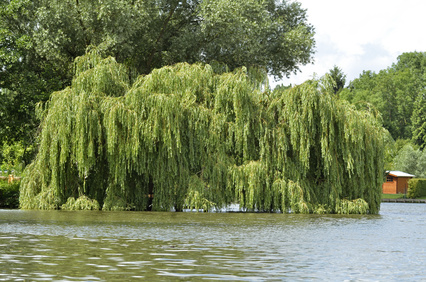 Need help choosing or caring for trees?
From choosing and planting trees to caring for young and sapling trees and keeping them healthy and maintained whilst they grow, it's always beneficial to have some professional guidance on hand.
The experts at TH Trees Ltd are here to help with a fully qualified and insured service covering all species and ages of trees, from the youngest right through to the most mature and established. For tailored advice, you are welcome to get in touch.
Aug 2, 2023
Bamboo removal
I want to thank Mark and the team for the fantastic job they did in removing the bamboo plants from our garden. They all worked extremely hard and kept us in touch with any problems that arose. They arrived when they said they would and when they were finished, they cleaned up after themselves and left our garden clean and tidy. I would definitely recommend TH Trees to anyone who wants their bamboo problem resolved.
Thank you very much Christopher for leaving us such a lovely review. It was a pleasure to get this job done for you, and we hope you'll contact us in the future should you need us again.
Page 1 of 226:
«
‹
1
2
3
›
»