Get a quick no obligation quote It's free and will only take a jiffy!
How to Care for Your Trees in Winter
Winter is almost here, which means it's time to start preparing your garden for the plummeting temperatures and harsh weather conditions. Here are some winter tree care tips to help you understand what you should be doing to protect and care for your trees this winter.
Inspect trees for signs of damage and disease
Even the healthiest trees can suffer storm damage. So following any harsh weather this winter, be sure to check your trees for storm damage, such as broken branches or weaknesses. Also check for signs of disease and, if necessary, call in a tree surgeon to diagnose and treat the condition before it gets any worse and starts to pose a threat to the tree's health.
Fruit trees such as apple, pear, cherry, blackberry and blackcurrant benefit from 'winter washing', which is an important winter tree care tactic, helping control pests and diseases by removing overwintering eggs and reducing fungal spores. Do bear in mind though that there may be beneficial wildlife hibernating in the tree, such as ladybirds and queen wasps. A winter wash is a mixture of plant oils, and can usually be purchased from a garden centre.
Have broken or damaged branches removed
If you do spot any broken or damaged branches, it's vital that you call in the experts to remove them before they fall without notice and potentially cause damage to property or injury to passers-by.
High winds and heavy rainfall can dislodge loose branches, which aside from the safety aspect, can also leave the tree vulnerable to infection. This really is one of the most important winter tree care tips.
Water trees regularly
Strange as it may seem, trees still need watering during the winter, especially newly planted ones. High winds can dry out soil, and a lack of moisture in the air can be damaging to tree roots.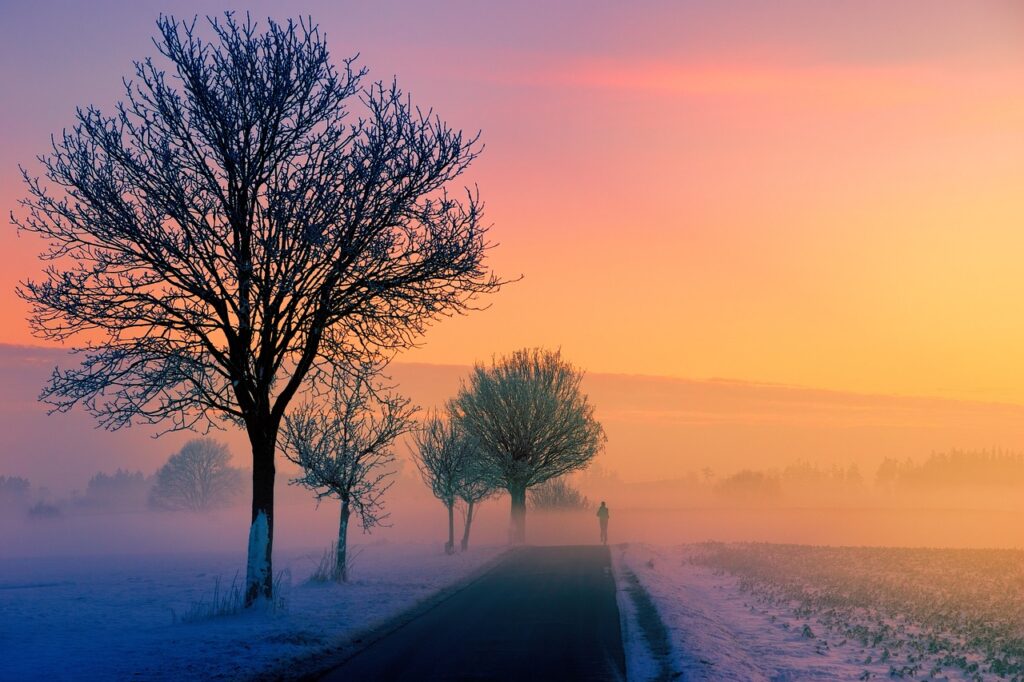 Protect tree roots
Mulching is the process of spreading a protective layer over the roots of a plant to protect it from the bottom up.
You can buy readymade mulch, or make your own from chopped leaves, straw, compost, grass cuttings, wood chips, shredded bark, sawdust or pine needles.
Avoid packing too much around or against the trunk of the tree. Instead, spread a thin layer around the drip line, the outermost circumference of the tree's canopy. This is where the roots are most vulnerable. Mulching will help to insulate the ground and keep important nutrients secured within the soil. It is especially important once regular winter frosts set in, and forms a very important winter tree care strategy.
Relocate container-planted trees
Any small, tender container-planted trees should be moved under cover wherever possible, preferably into a greenhouse, or against a house wall with other plants so that they can keep each other warm.
Use sheets of fleece to cover individual small trees or groups of trees, securing with pegs or string. If the fleece is in direct contact with plants, remove it as soon as the weather conditions improve, otherwise it will reduce the amount of scarce winter light that is able to reach the plants. It may also act as a haven for pests.
Looking for advice on caring for your trees this winter?
If you are concerned about the safety or health of a tree on your land this winter, TH Trees Ltd can help.
We are fully qualified Trading Standards approved Essex tree surgeons covering all of Essex and Greater London.
Where required, we can remove branches, prune trees or provide treatments for diseases and pests. From residential to commercial and public sector properties, we have the expertise and experience to provide the service you need with the utmost in efficiency and safety.
For a tailored quote, please get in touch.
Aug 2, 2023
Bamboo removal
I want to thank Mark and the team for the fantastic job they did in removing the bamboo plants from our garden. They all worked extremely hard and kept us in touch with any problems that arose. They arrived when they said they would and when they were finished, they cleaned up after themselves and left our garden clean and tidy. I would definitely recommend TH Trees to anyone who wants their bamboo problem resolved.
Thank you very much Christopher for leaving us such a lovely review. It was a pleasure to get this job done for you, and we hope you'll contact us in the future should you need us again.
Page 1 of 226:
«
‹
1
2
3
›
»